Village of South Blooming Grove
About the Village of South Blooming Grove
The Village of South Blooming Grove was incorporated on July 14, 2006. Our Village is located in the Town of Blooming Grove, County of Orange, in the State of New York. The postal zip codes that service the Village of South Blooming Grove area are 10950 and 10914.
The village encompasses 4.98 square miles (12.9 km2).
COVID-19 VILLAGE UPDATE
March 30, 2020
Dear residents of South Blooming Grove:
As your mayor, I am on conference calls with county and municipal leaders daily receiving updates on how we are to comply with the CDC guidelines regarding the COVID-19 pandemic. In accordance with Governor Cuomo's "New York State on Pause" Village Hall remains closed to the public until April 15, 2020. We have also made the decision to suspend all village meetings, including Village Board, Planning Board, and Zoning Board of Appeals.
We encourage people to follow the CDC guidelines when practicing social distancing; no group gatherings and when in public, remain no less than six (6) feet from one another. We've received an increased concern over groups of people still gathering together.
While you have some extra time on your hands, I urge all citizens to complete the 2020 Census form as it directly impacts state and federal funding to our village. Our share in sales tax directly impacts our annual budget as a revenue line in turn affecting property taxes. Without a proper Census count from our village, we will be shorting ourselves not only sales tax revenues but also grant funding. Please mail in your form, complete it over the phone or fill it our online by clicking here https://2020census.gov/en.html.
The Meals on Wheels Program continues to service our seniors with home deliveries. Anyone needing information for this program should contact the Office for the Aging at 845-615-3700.
The County has activated a hotline for all concerns at 800-832-1200.
While the water is safe for consumption, the village has received multiple calls from residents stating they were unable to purchase bottled water at local supermarkets.  The village has been able to secure several cases of water for those who may need it.  Please call Village Hall to arrange to a pickup.
At this time, we are unable to accept cash payments as our office is closed. Tax payments can be placed in a sealed envelope and left in our locked mailbox in the front of Village Hall, which is located at 811 Route 208, next to the firehouse. We are holding off on water billing for at least another month.
If you have any questions or concerns, please call Village Hall at 782-2600 as we are attempting to answer all calls personally as well as retrieving messages and returning all calls. If you have an emergency, please call the Blooming Grove Police Department.
Stay safe.
Best regards,
James A. LoFranco
The Village of South Blooming Grove is in a State of Emergency
March 17, 2020 — The Village of South Blooming Grove Election which was originally scheduled for tomorrow has been postponed to April 28th, the same day as the NYS primary, in light of the COVID-19 pandemic. We have also decided to close our Village Board, Planning Board, and ZBA meetings to the public to protect the health and well-being of our boards, professionals, and citizens. Village Hall will remain open Monday through Friday from 9am to 4pm. We are asking that anyone in need of visiting Village Hall please refrain from doing so unless you have first called or emailed and have a scheduled appointment. Thank you and please stay safe.
December 18, 2019
Village of South Blooming Grove Announces WIIA Grant Approval
The Village of South Blooming Grove proudly announces it has been awarded a grant in the amount of $660,000 through the New York State Water Infrastructure Improvement Act for the long-awaited Merriewold Water Improvement project. The new filtration system will cost the village approximately $1.2 million, of which $985,000 will be funded with grant money.
"We have been battling water problems in the Village of South Blooming Grove for years. With the guidance and expertise of our village engineers and water operator, we have been able to secure three separate grants, with the WIIA being the largest, to help fund our water improvement project. This never would have been possible without the hard work of these individuals as well as my staff. The Village Trustees have served as huge proponents of the project and have spent countless hours emailing and on the phone with elected officials at the county and state levels. I would like to personally thank New York Assemblyman Colin Schmitt, New York State Senator James Skoufis, and United States Senator Kirsten Gillibrand for their help and support in securing the WIIA grant. Assemblyman Schmitt's Water Quality Task Force helped bring to light our village's challenges concerning clean drinking water and for that I will be forever grateful," said Village of South Blooming Grove Mayor James LoFranco.
Mayor LoFranco has been successful in his two years as mayor in securing three grants for water improvements in the Village of South Blooming Grove, a grant for leak detection throughout the village's eleven miles of water infrastructure, and a grant for stormwater improvements. After being rejected for the WIIA grant last year, the Village of South Blooming Grove persevered and was successful after another round of applications and analyses. "I have surrounded myself with the some of the most talented and knowledgeable minds in the surrounding area. Our team has come up with a plan with many moving parts- from funding to design to construction. I am proud to be a part of this project and look forward to seeing it to completion," said LoFranco.
August 30, 2019
Renovations are taking place at Village Hall. Wishing everyone a restful Labor Day weekend.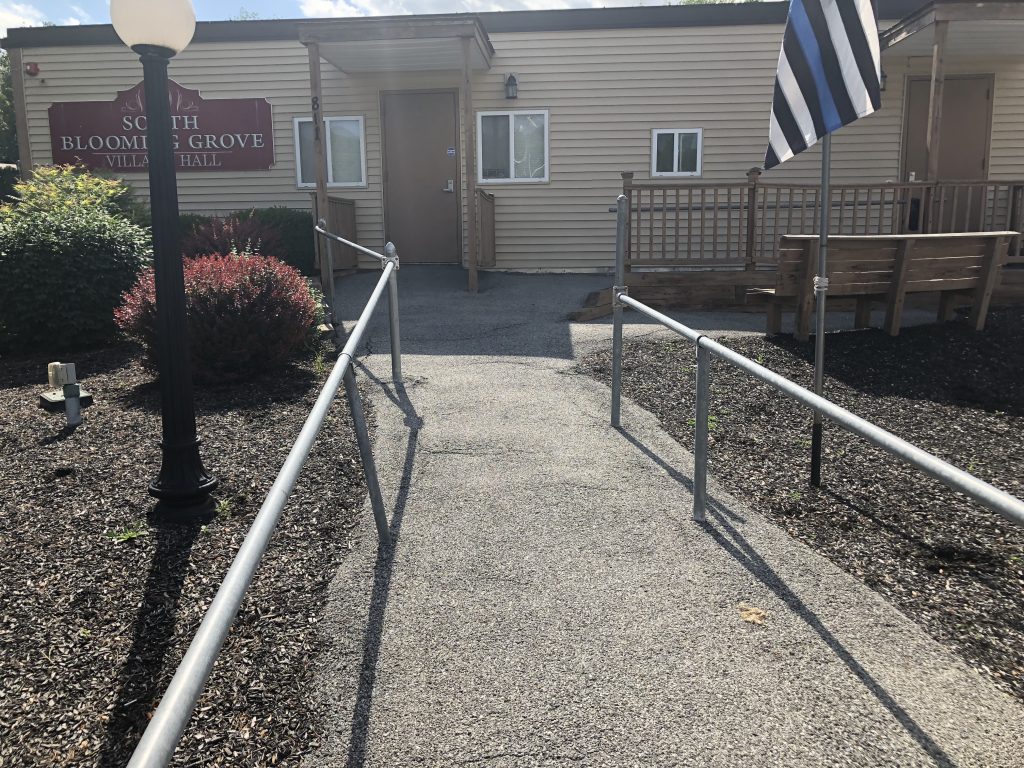 July 4, 2019
We have been notified that the water main break has been repaired. You may experience some discoloration until the system is replenished with fresh water. Thank you for your understanding. Thank You to our Water department and the Town of Blooming Grove Highway department who came out on this holiday to ensure that the water main break was quickly repaired. The Village appreciates your efforts.
July 4, 2019
A water main break was detected in the area of Old Town road. Areas affected are Merriewold lake area icluding Lake Shore drive, Merriewold Lane north, Hawks Nest, Red Bird drive, Beech Tree round, Lone Oak circle, Tappan drive and Old Town road. Crews are currently on site making the necessary repairs. During this time residents may experience spotty water outages or lower water pressure while repairs are made. Once these repairs are complete and water is restored, you may experience some discoloration in the water. Please refrain from using appliances that use water until later in the day when the discoloration subsides. Thank You – Village of South Blooming Grove.
July 1, 2019
Due to High Water Consumption this past weekend, it was necessary to truck in water. Please be reminded that the Village is under mandatory water restrictions. Please conserve water and be aware.