Village of South Blooming Grove
About the Village of South Blooming Grove
The Village of South Blooming Grove was incorporated on July 14, 2006. Our Village is located in the Town of Blooming Grove, County of Orange, in the State of New York. The postal zip codes that service the Village of South Blooming Grove area are 10950 and 10914.
The village encompasses 4.98 square miles (12.9 km2).
The Village of South Blooming Grove would like to wish everybody a very Merry Christmas and a Happy Hanukkah. A special thank you to all the service men and women and first responders that are unable to be home with their families for this holiday season! We wish your families a Happy Holidays! Have a happy and healthy New Year!
December 18, 2019
Village of South Blooming Grove Announces WIIA Grant Approval
The Village of South Blooming Grove proudly announces it has been awarded a grant in the amount of $660,000 through the New York State Water Infrastructure Improvement Act for the long-awaited Merriewold Water Improvement project. The new filtration system will cost the village approximately $1.2 million, of which $985,000 will be funded with grant money.
"We have been battling water problems in the Village of South Blooming Grove for years. With the guidance and expertise of our village engineers and water operator, we have been able to secure three separate grants, with the WIIA being the largest, to help fund our water improvement project. This never would have been possible without the hard work of these individuals as well as my staff. The Village Trustees have served as huge proponents of the project and have spent countless hours emailing and on the phone with elected officials at the county and state levels. I would like to personally thank New York Assemblyman Colin Schmitt, New York State Senator James Skoufis, and United States Senator Kirsten Gillibrand for their help and support in securing the WIIA grant. Assemblyman Schmitt's Water Quality Task Force helped bring to light our village's challenges concerning clean drinking water and for that I will be forever grateful," said Village of South Blooming Grove Mayor James LoFranco.
Mayor LoFranco has been successful in his two years as mayor in securing three grants for water improvements in the Village of South Blooming Grove, a grant for leak detection throughout the village's eleven miles of water infrastructure, and a grant for stormwater improvements. After being rejected for the WIIA grant last year, the Village of South Blooming Grove persevered and was successful after another round of applications and analyses. "I have surrounded myself with the some of the most talented and knowledgeable minds in the surrounding area. Our team has come up with a plan with many moving parts- from funding to design to construction. I am proud to be a part of this project and look forward to seeing it to completion," said LoFranco.
August 30, 2019
Renovations are taking place at Village Hall. Wishing everyone a restful Labor Day weekend.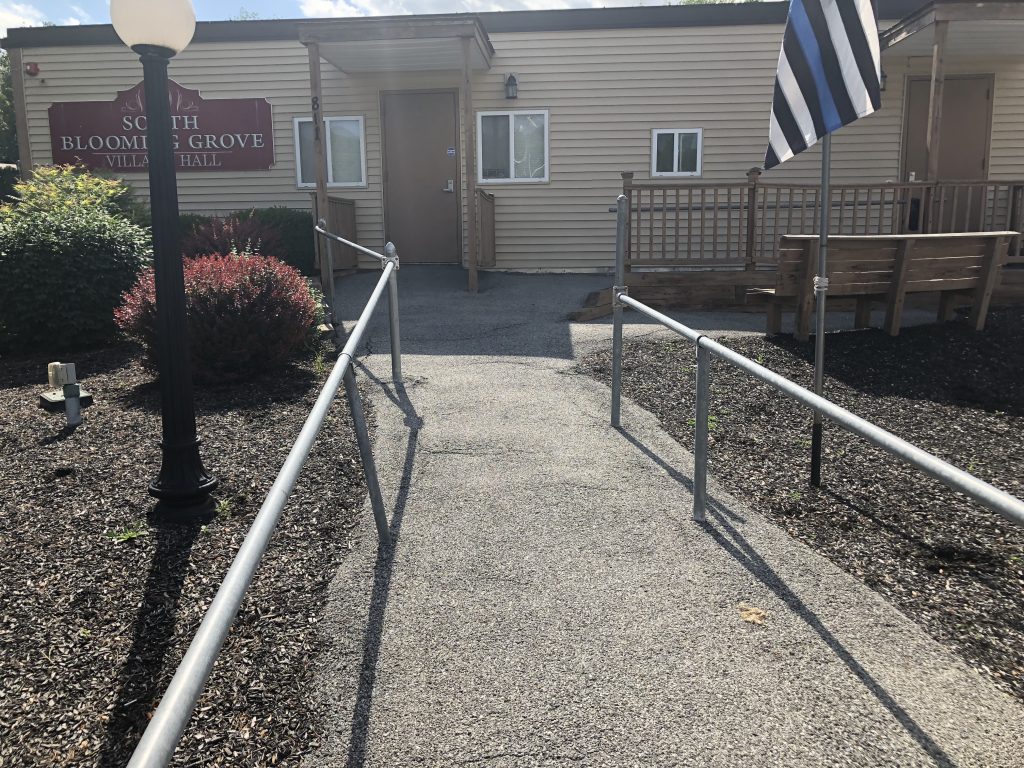 July 4, 2019
We have been notified that the water main break has been repaired. You may experience some discoloration until the system is replenished with fresh water. Thank you for your understanding. Thank You to our Water department and the Town of Blooming Grove Highway department who came out on this holiday to ensure that the water main break was quickly repaired. The Village appreciates your efforts.
July 4, 2019
A water main break was detected in the area of Old Town road. Areas affected are Merriewold lake area icluding Lake Shore drive, Merriewold Lane north, Hawks Nest, Red Bird drive, Beech Tree round, Lone Oak circle, Tappan drive and Old Town road. Crews are currently on site making the necessary repairs. During this time residents may experience spotty water outages or lower water pressure while repairs are made. Once these repairs are complete and water is restored, you may experience some discoloration in the water. Please refrain from using appliances that use water until later in the day when the discoloration subsides. Thank You – Village of South Blooming Grove.
July 1, 2019
Due to High Water Consumption this past weekend, it was necessary to truck in water. Please be reminded that the Village is under mandatory water restrictions. Please conserve water and be aware.