August 10,2020
Curbing is underway on Sears Road as we prepare to re-pave Sears Road, Green Road, Michael Court, and Galveston Drive. We have been planning this project for over a year and have carefully budgeted and funded this undertaking. Large projects like this do not happen overnight— so much goes on behind the scenes before ground is broken. Thank you to our engineers and financial advisors for making this happen!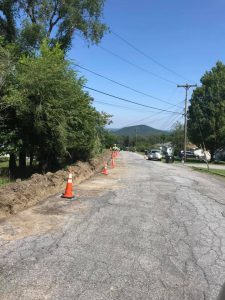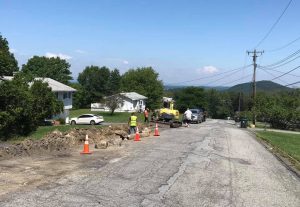 July 28, 2020
Work on the Merriewold Water Project is in full swing! We will also be starting work on Sears and Green Roads as soon as plans are finalized. We are also continuing to identify new and viable water sources.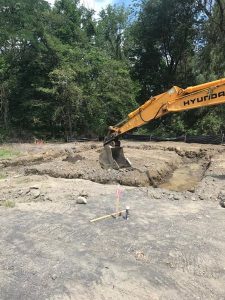 June 19, 2020
As we enter Phase 3 of New York State on Pause, our office is fully staffed but is still closed to the public.  We are accepting water and sewer payments in the form of check or money order at the window and we are accepting credit card payments on our website.  Please call Village Hall if you need assistance.
Construction has begun on our new water filtration system!  Although the project will take a few months to complete, I am hopeful that the outcome will be worth the wait. I have included some pictures of progress thus far.  Our water department along with our engineers are actively seeking additional water sources for the village.  They are also rehabbing existing wells to increase water production. The village remains under water restrictions.  Please refrain from watering your lawn or garden and please do not fill your pool with village water.
Our Highway Department has been out trimming roadsides and intersections.  If you see a location where sight distance is impeded, please let us know at Village Hall.
I personally placed traffic calming devices throughout the village on some of our busier roadways.  We will be purchasing more in the future.  If residents are concerned with speeding or tampering with these devices, please contact Blooming Grove Police Department.  The safety and welfare of our citizens are of the utmost concern to all of us.
I encourage everyone to take pride in their property and to keep all lawns mowed and all garbage and recyclables in proper receptacles.  Again, any concerns, please call Village Hall or fill out an incident report on our website.
I am available for anyone who wishes to discuss any of the matters above or any other matters.
Please continue to be safe and stay healthy.
Mayor LoFranco